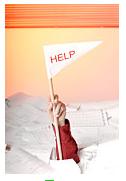 Running multiple projects at the same time can easily overload you if you don't use the right approach. The basic successful principle is to keep focus on what matters and make sure that things keep moving forward. In order to do this you need to be able to overview the status of all your projects and quickly pinpoint the critical items that need immediate action.
Imagine this scenario. You are called into an emergency meeting and are requested to explain the status of your projects. You print 250 pages of status reports and now what? Where do you start?
You start skimming the report pages using your pencil as pointer. Thirty seconds have elapsed and you couldn't find your critical items yet. One minute, two minutes, three minutes. Now you start going back and forth through report pages. Definitely not good, your blood pressure is going up and your heart is pumping faster. You are damaging your health. Looking around at the impatient faces just makes it worse.
GoalEnforcer Hyperfocus now offers a new feature that can make multi project management and presentation much easier. The new Multi-Project Navigator allows you to overview all your projects and quickly identify the ones that need immediate action. You can then navigate further into those projects and use the Map View mode to pinpoint the critical items. Click here for more details on how the Multiple Project Navigator works. Enjoy the power of Visual Multi Project Management made easy!