It's late at night and you are not ready for your presentation tomorrow. Your boss asked you to present a status report to the group, showing your accomplishments and future task plan (broken down into tasks and sub-tasks). But the hours go by and you are still fighting with Word, trying to get your report nicely formatted.
As a last resort you go on the Internet trying to find a tool that will do it for you. You download a bunch of software trials, but none can generate a nicely formatted status report, showing proper indentation for tasks and sub-tasks. None can give you that perfect final paper layout you've been looking for. You also find a lot of Word status report templates, but they are not flexible enough for you. Changing and reordering tasks involve a lot of retyping, cutting and pasting and, once again, formatting mess.
With GoalEnforcer Hyperfocus version 2009 R1 you can now do that with a single click!
Start by composing a work project plan. While working in Map View Mode you can create and freely move tasks and sub-tasks around. Updating the status of your sub-tasks will automatically calculate the status of parent tasks. Moving tasks to different sequence position or levels will cause parent task status info to be automatically recalculated for you.
Once you are ready to generate your Word report, click the software integration button on the bottom toolbar (third button from the left). Then select "Export to Word" and you should see your Status Report open in Word within a few seconds. As simple as that!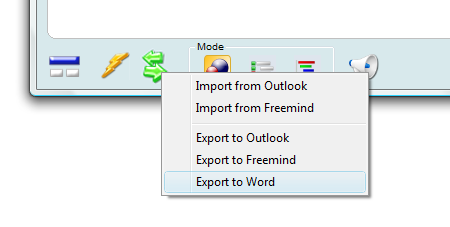 Last minute changes? No problem, just add/remove or rearrange tasks, and generate a new report in a few seconds.

After all bosses like to be kept well informed and that's your chance to make a good impression!