Mac OS X + Windows Bundle Offer
Copyright © 2004-2021 by GoalEnforcer, SVT Systems. All rights reserved.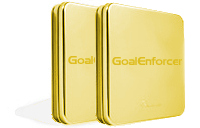 Best
GoalEnforcer
Hyperfocus Mac + Win
Choose your checkout option:

Immediate Download: product download and registration will be emailed to you as soon as your order is approved.
If at any time during the first 60 days of using the software you find that the product is not or does not meet or live up to your needs, feel free to contact us and request a full refund.




Serious software for serious results
"We are using Goalenforcer as a central part of a European union behaviour change program focused on health. It has been incorporated into an interactive DVD which uses multimedia materials (video, audio) and is the final session of the intervention, allowing counsellor and client to plan the first steps for change. The intervention is being used in 10 countries and the response from clients to the program has been excellent. It is a clear, intuitive and rather fun way to incorporate layered goals and allows movement from higher level goals (who I want to be..) to simple ones (go to the doctor 11am Monday)."

"Support from Goalenforcer has been excellent!"
Agnes Kocsis, Principal Investigator Eurosupport 6
CNWL NHS FOUNDATION TRUST AND IMPERIAL HEALTHCARE NHS, LONDON UK






Visualize your Goals and Achieve your Dreams.
Get started today !
How is my order delivered?
Goalenforcer is a downloable software and you will get a download link and registration info.

How many computers can I install and use GoalEnforcer on?
The Starter and Standard versions allow for a single computer installation.
The Hyperfocus version is good for 4 home computers or 3 home computers plus 1 work computer (4 total installations).

What are the differences among all 3 versions?
Check this table for further details.

If I buy the Starter Edition version can I upgrade to the Stdandard or Hyperfocus version?
Yes. Thanks to our Easy Upgrade Plan and you can get an upgrade from Starter-to-Standard or Starter-to-Hyperfocus by just paying the difference in price.

If I buy the Standard version can I upgrade to the Hyperfocus version?
Yes. Thanks to our Easy Upgrade Plan you can get an upgrade form Standard-to-Hyperfocus upgrade by just paying the difference.

I have an old Hyerfocus version. How can I get the latest Hyperfocus version?
You can get free updates withis an year after the date you placed your order. You can still get the latest version at a reduced cost if your Hyperfocus version is older than 1 year. Just check your license status for further details.


What should I do if I have problems?
Please don't hesitate to contact our support team. Contact GoalEnforcer Support >>

Do you take credit cards?
Yes, any of the three checkout options (PayPal, Google Wallet and Regnow) can take credit card payment.

Do you take money orders?
Yes. Choose the RegNow checkout option if you want to pay with money order, check, or bank transfer.

Can I return the product if it doesn't fit my needs?
Yes, you can return and get a full refund within 60 days of your order.

Can I place an order over the phone?
Yes, you can by calling our RegNow software distributor. The Toll Free Number in the US is 1-877-353-7297. Internationally please call 1-(952) 646-5331. The phone number is available 24 hours per day, 7 days a week.



limited time offer, save $110.00